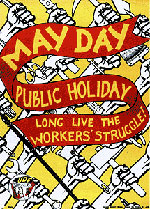 The Workers' Commission of Freedom Road has recently produced two pieces in advance of the 2012 Labor Notes conference:
Working People's Assemblies: Social Justice Unionism for the 21st Century, which takes on the current crises of the labor movement, their political history, and puts forth a vision of social justice unionism to bring our workers movements forward; and,
On the Front Lines: In Defense of Public Sector Workers and Services examines the critical role public sector workers and defense of public services play in the fight for a better world.
We thought these would be appropriate to highlight this International Workers' Day. If you're attending Labor Notes, look for us there, and pick up a few copies to take home!
Download this piece as a PDF